Hi there I hope the weather is better where you are? Ours is grey with low white cloud and very very cold: brrrrrrrrrrrrrr It's trying to snow a little. I don't mind the cold but I DO so need a bit of BLUE sky!
Especially this week as it's been a bit of a humdinger pour moi. So before we get all maudling: HERE is a daffodil I crocheted on 1st March from this FABULOUS website called attic 24 that I'm often mentioning here and this is the link to the daffodil pattern:
http://attic24.typepad.com/weblog/2013/02/crocheting-daffodils.html
Wednesday and Thursday whizzed by in a whirl of work and travel , study , lectures and dancing and then on Friday morning I found a LUMP. Yep: extra large marble sized and with a bruise and in the chest area. Luckily my GP saw me by 9 am and was re-assuring but it's been so sore and it's so hard to marshall and control one's thoughts to be of the POSITIVE kind only. I will NOT permit thoughts of any other kind.
And yet. And yet. I'm simply dying to go and have a good cry? JJ knows and has said nowt and of course the girls don't know. Waiting to go to a b- clinic in about 14 days time.
Then after a 9 hour day at work I came home Friday and JJ was promising to book a holiday cottage but fell asleep, poor dear. He's been working 12 + hour days 6-7 days a week so it's very understandable.
Oh DO get to the point, will you? Yes well so I booked this cottage myself and really kind of splurged as I wanted a treat sooo bad, and guess what ? I booked the WRONG one....Oh you must laugh! How daft is that? I confused Plymouth and Weymouth and now we're booked to go to Devon rather than Dorset?
How can I be such an IDIOT?
Luckily after a few deep breaths and a Baileys I can see the funny side.
It's got sea views so we can either make the most of what we have or I may try to change the booking.
Saturday I to a Ball and danced some lovely dances but after a bit my eye started hurting and I decided to sit out and rest a bit. Not my scene at all I must say. But the music was so lovely it wasn't too bad. And I managed to video the dancers a little.
So that was my week. And on Mother's Day the dog- Lucy woke me up several times very early so I missed my traditional ''breakfast in bed'' . The cards were SUPER and I have been allowed NOT to walk the dogs in this ccccccold weather or order the week's food on-line but sit and crochet AND order a lovely new crochet hook.
THIS is the one I hope will arrive soon from New York no less.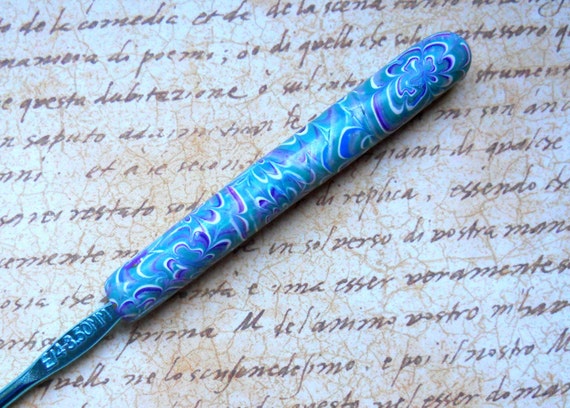 The dinner, washing, cleaning and tidying is all in hand so I can do some mothering still.